SHIPPING NOTICE: FREE SHIPPING
This item is currently ONLY available in United States.
We will update the shipping information when it is available in more areas.
Please Pay Attention:
We will keep orders for customers from other countries who order the straps.
And the ropes will be sent out by staff in our warehouses when restock.
Good News! ---
We are now providing a special offer which costs only $73.99, containing a 24"&17" Double Lengths Tricep Rope and a Percussive Massage Gun for our upperbody workout enthusiasts.
Do not hesitate to get this hot-selling sports set to maximize your fitness performance!

· Two Lengths Built in One Rope:
Overall length (when laid flat): Outer loops 37" (95cm) Inner loops 27" (69cm), longer than most of the tricep straps and pull down ropes on the market.
Two lengths are suitable all body sizes. For those want extra-long tricep rope we have the longer size up to 55''(140cm).
· One Triceps Rope for Diversified Exercises:
Before you might have needed to switch between the 27 and 35 inches triceps ropes for difference exercises,
however, now you only need to take your Vulken tricep straps to the gym.
Additionally, its two-sizes-in-one design provides great versatility to your workout routine by allowing you to easily switch lengths
between different rope exercises such as face pull, triceps pushdowns, bicep curls and more cable machine attachment exercises.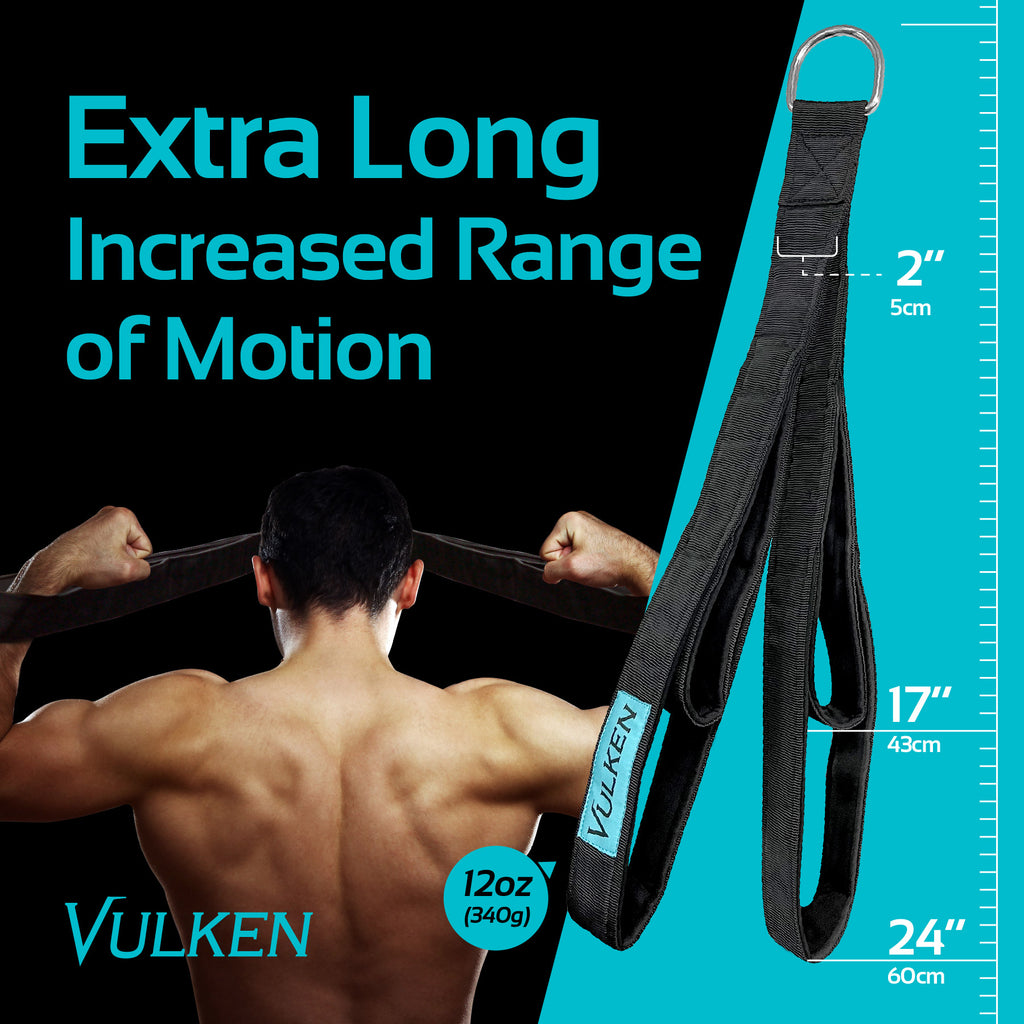 · Increase Range of Motion:
Traditional triceps ropes are too short and limit your ability to open up the shoulders fully for exercises like the face pull.
Vulken extra-long triceps straps allow you to extend your range of motion to the max.
· Isolating Your Target Muscles:
When using traditional ropes with caps, your wrists might be tired out before your intended back and shoulders muscles are fully worked.
Vulken triceps straps allow you to use a proper workout weight to build your target muscles groups without wrist strain, to tone your upper body effectively.
· Ideal Ergonomics Prevents Joint Injuries:
The triceps straps provide 4 gripping options allowing placement of hands in the most comfortable position,
taking excessive stress off your wrists, fingers, and elbows.
· Universally Fit For Gym Cable Machines & Home Gym Equipment:
- Gym workout: Attachable to any universal weight machines, cable system or rowing machines.
- Home workout: Can be used as workout handles by attaching it to a resistance band or pulley system.
· Great for Upper Body Muscles Development:
Designed to assist you in the development of your triceps, biceps, back, shoulders, abs.
· Muscles Worked:
Latissimus Dorsi, Teres Major and Minor, Deltoid, Rhomboids, Biceps, Pectoralis Major, and Triceps muscles and more.
· Ideal for Best Tricep Exercises:
Overhead triceps extension, press down, triceps kickbacks, biceps curls, pull downs, row,
cable pull-throughs, cable squat rows, face pull, cable hip extending, Ab crunches etc.
· Premium Quality for a Long Lifetime:
Made of Sturdy polyester webbing materials with 6mm thick D-ring.