SHIPPING NOTICE: FREE SHIPPING
This item is currently ONLY available in the United States.
We will update the shipping information when it is available in more areas.
 This special offer contains a 24"&17" Double Lengths Tricep Rope and a Percussive Massage Gun.
Do not hesitate to get this hot-selling sports set to maximize your workout performance!

· Two Lengths Built in One Rope:
Overall length (when laid flat): Outer loops 37" (95cm) Inner loops 27" (69cm), longer than most of the tricep straps and pull down ropes on the market.
Two lengths are suitable all body sizes. For those want extra-long tricep rope we have the longer size up to 55''(140cm).
· One Triceps Rope for Diversified Exercises:
Before you might have needed to switch between the 27 and 35 inches triceps ropes for difference exercises,
however, now you only need to take your Vulken tricep straps to the gym.
Additionally, its two-sizes-in-one design provides great versatility to your workout routine by allowing you to easily switch lengths
between different rope exercises such as face pull, triceps pushdowns, bicep curls and more cable machine attachment exercises.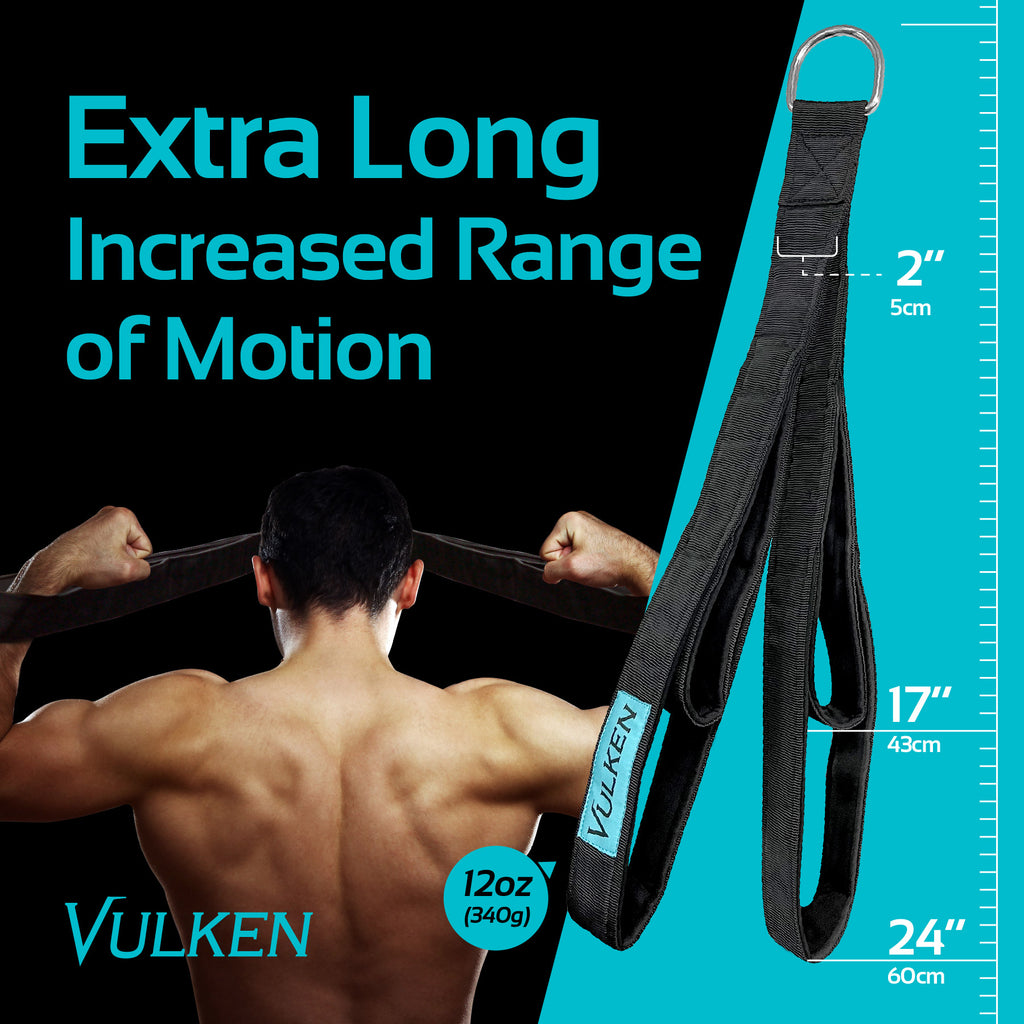 · Increase Range of Motion:
Traditional triceps ropes are too short and limit your ability to open up the shoulders fully for exercises like the face pull.
Vulken extra-long triceps straps allow you to extend your range of motion to the max.
· Isolating Your Target Muscles:
When using traditional ropes with caps, your wrists might be tired out before your intended back and shoulders muscles are fully worked.
Vulken triceps straps allow you to use a proper workout weight to build your target muscles groups without wrist strain, to tone your upper body effectively.
· Ideal Ergonomics Prevents Joint Injuries:
The triceps straps provide 4 gripping options allowing placement of hands in the most comfortable position,
taking excessive stress off your wrists, fingers, and elbows.
· Universally Fit For Gym Cable Machines & Home Gym Equipment:
- Gym workout: Attachable to any universal weight machines, cable system or rowing machines.
- Home workout: Can be used as workout handles by attaching it to a resistance band or pulley system.
· Great for Upper Body Muscles Development:
Designed to assist you in the development of your triceps, biceps, back, shoulders, abs.
· Muscles Worked:
Latissimus Dorsi, Teres Major and Minor, Deltoid, Rhomboids, Biceps, Pectoralis Major, and Triceps muscles and more.
· Ideal for Best Tricep Exercises:
Overhead triceps extension, press down, triceps kickbacks, biceps curls, pull downs, row,
cable pull-throughs, cable squat rows, face pull, cable hip extending, Ab crunches etc.
· Premium Quality for a Long Lifetime:
Made of Sturdy polyester webbing materials with 6mm thick D-ring.

· Powerful Massage Gun:
A brushless high-torque motor allows for strong vibrations of up to 3000 RPM with a 12mm stroke amplitude.
This allows the massager to deliver strong vibrations to deeper muscle tissues.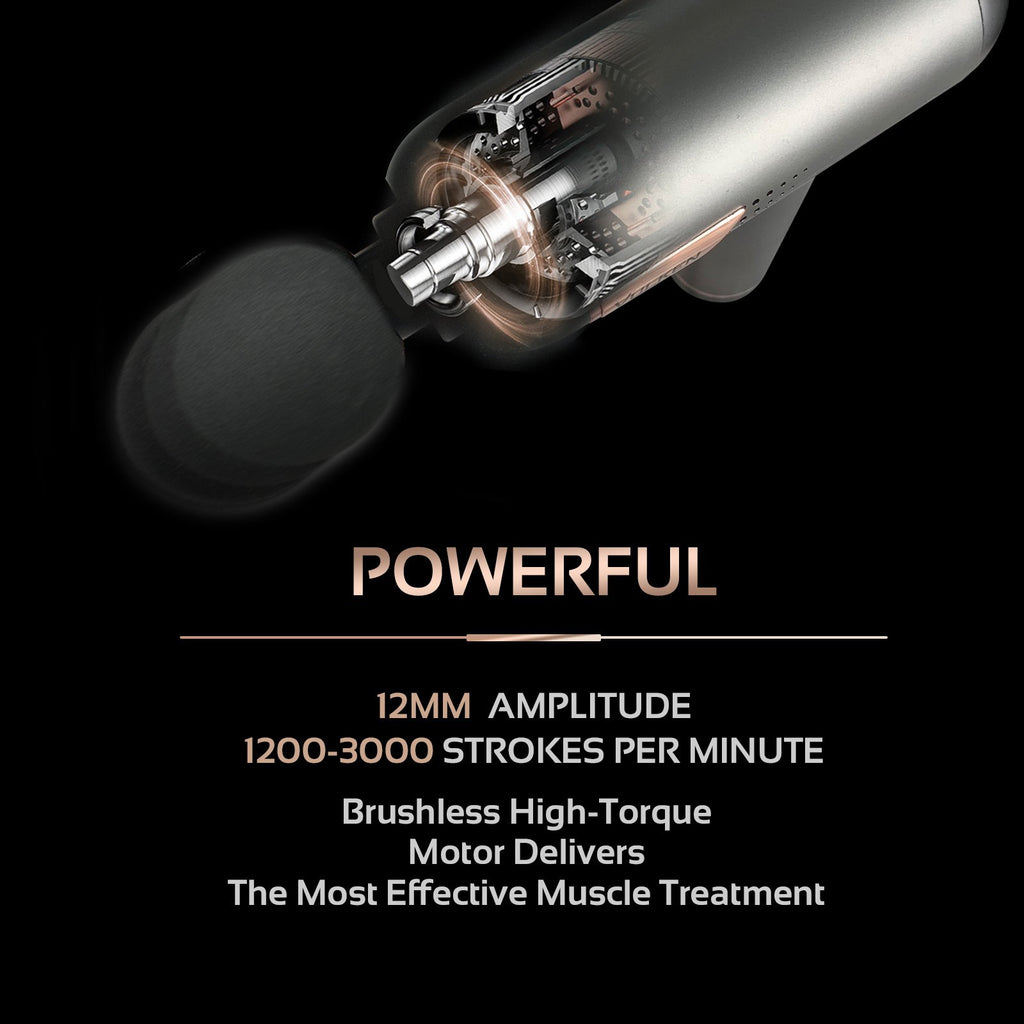 · Improved Quiet Technology:
A real relaxing massage time without annoying noise.
At the massagers most powerful (3000 RPM), the noise level is only 62dB, about the same noise as a normal conversation.
The lowest speed is significantly quieter at only 50dB.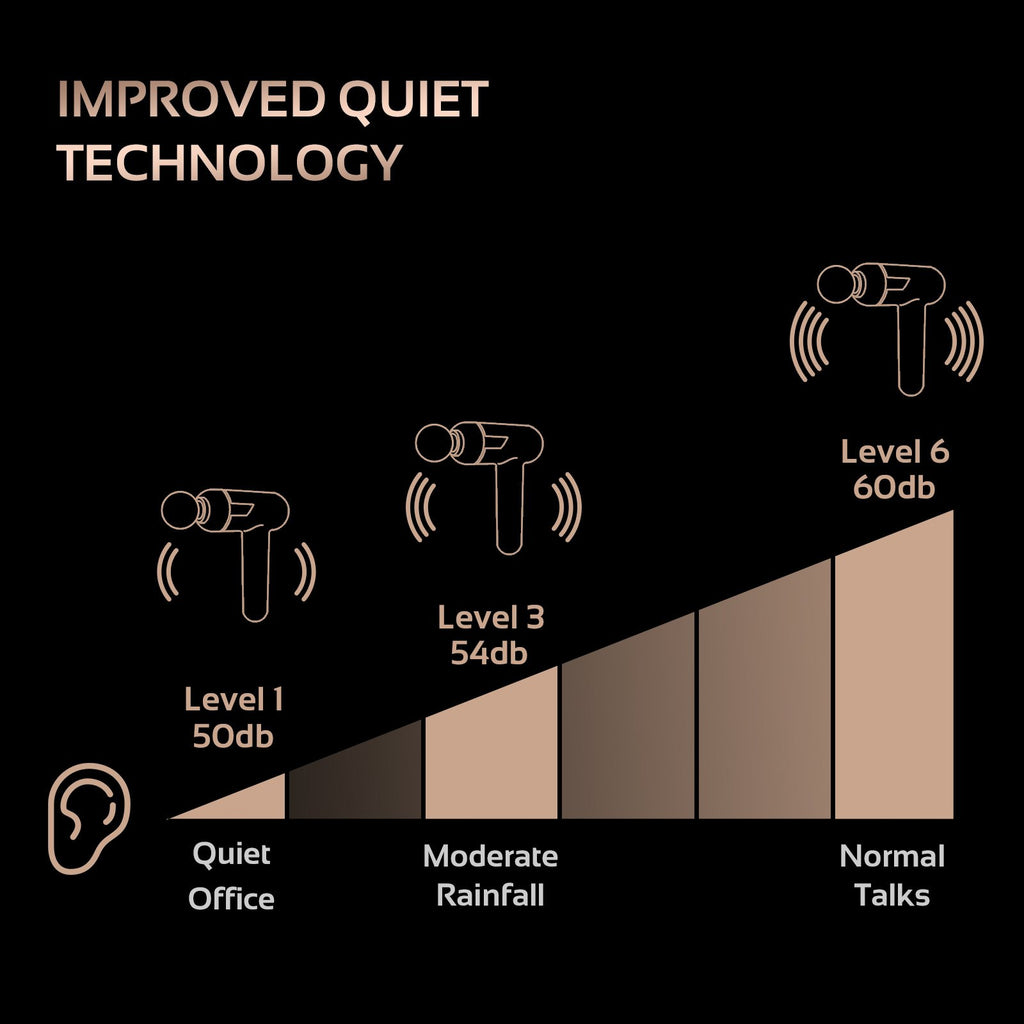 · 6 Speed Settings Fit Wide Range of Use:
6 Speed settings range from 1200-3000 RPM make it a deep muscle stimulator
which is suitable for relaxing deep tissue and relieving stiffness as part of sports therapy treatment.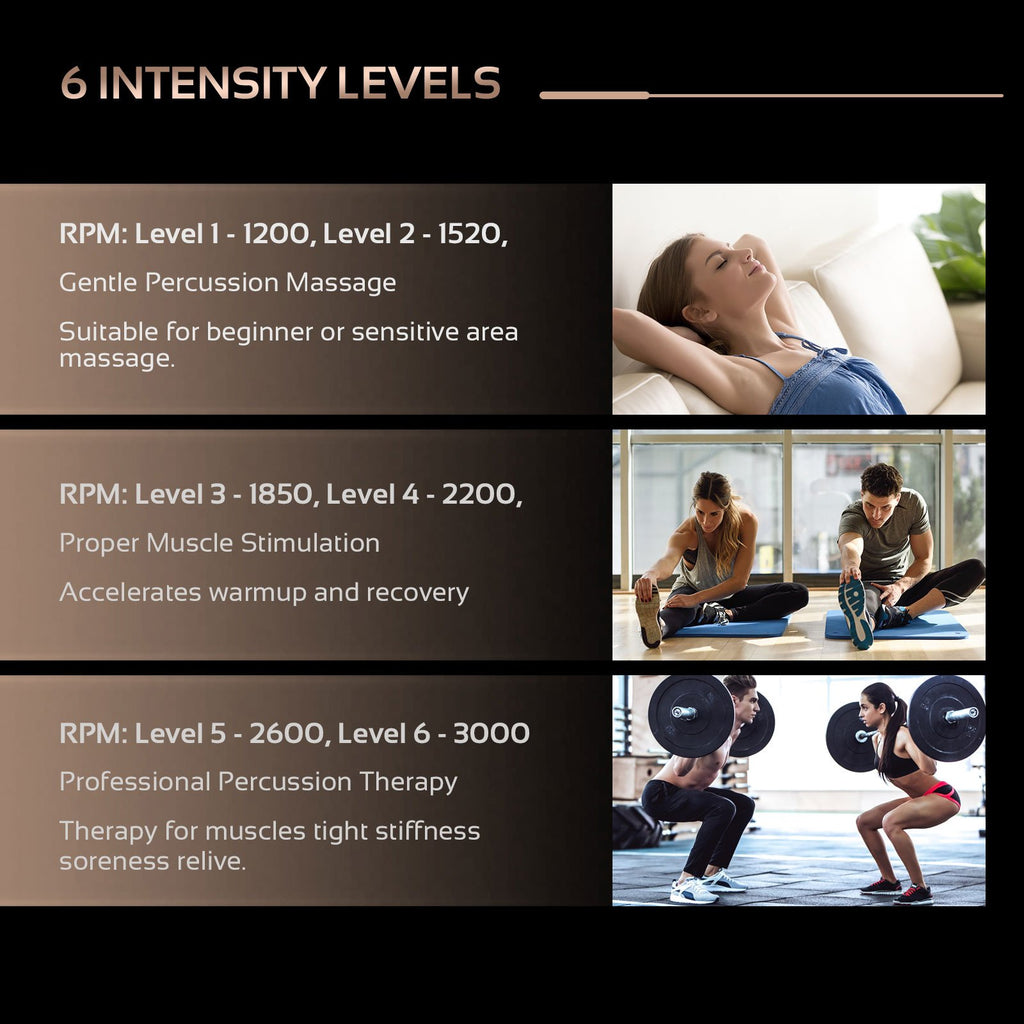 · 6 Massage Gun Attachments:
These are designed for massaging different body areas and providing more accurate percussive therapy,
can be used on trigger points or you can isolate a specific muscle group.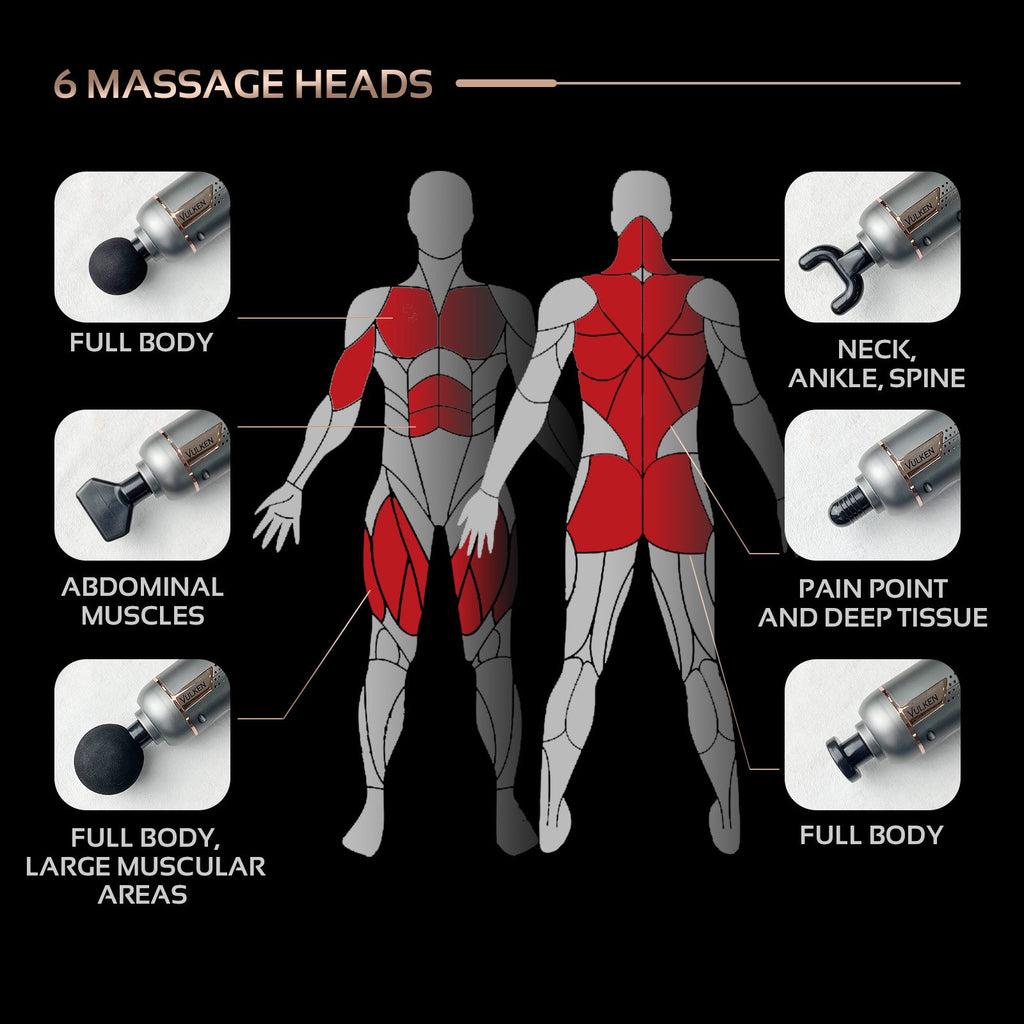 · Easy To Use Cordless Handheld Massager:
Our ready set, LED touch panel allows you to operate it easliy, no complicated manuals or heavy equipment needed.
Vulken deep muscle relieve percussive massage gun is an excellent trigger point massager for back,
neck, arms feet and calves, a must-have sports massager before
and after the race & training that delivers the highest penetration muscle relief.
It is an ideal tool to be used pre and post-rehabilitation and workouts.
6 INTENSITY LEVELS
RPM: Level 1 – 1200, Level 2 – 1520, Level 3 – 1850, Level 4 – 2200, Level 5 – 2600, Level 6 – 3000.
Wide range of usage from tired muscle relaxing, sports massage to professional level percussion therapy.
MASSAGE GUN PERCUSSION THERAPY BENEFITS
· Keep muscles loose and flexibleReleases muscle tension & soreness
· Improves range of motion & flexibility
· Increases circulation in tired, fatigued muscles
· Accelerates warmup and recovery
PORTABLE AND EASY TO USE
Cordless and lightweight, with a portable carrying case, making it convenient to use at home, gym, on holidays etc.
SPECIFICATIONS
Size: 8.7" x 8.7" x 2.4" (22 cm x 22 cm x 6 cm)
Weight: 1.8 lbs (0.85 kg)
Battery: Rechargeable lithium-ion batteries
Battery Capacity: 2400MAH
Working Time: 4 Hours
Vibration Frequency:20Hz-50Hz min max
PACKAGE INCLUDED
1x Vulken Massage Gun
6x Massage heads
1x Carry box
1x Power Charger
1x User Manual
Vulken percussion and vibrating massage tools are used in physical therapy clinics, chiropractic offices, rehabilitation.
Trusted by professional athletes, sports trainers and massage therapists.
VULKEN PERCUSSION MASSAGE GUN REVIEW VIDEO
By Professional Fitness Athlete Paola: How Vulken Massage Gun helps to release your sore muscles?
Muscular pain and soreness are unavoidable after intense fitness training. How to reduce them and get a faster muscle recovery?
You may need a perfect recovery tool to help you out!
Vulken Percussion Vibrating Massage Gun can the one. With 6 speed settings and 6 interchangeable massage heads,
it's of great help you trigger point tight and sore muscle groups and deliver high-intensity vibration for muscle and pain relief.
Perfect to use on back, neck, arms feet, calves, and other small muscle groups.
"Amazing results in recovery after a good workout. This massage gun gives everyone the ability to Move Better.
It is easy to use, lightweight, durable and with a beautiful design. You can take the comfort of relaxation on-the-go."
⭐⭐⭐⭐⭐----- Paola Crespi
Portable and budget-friendly! ⚡